A better way to improve safety at garment factories in Bangladesh
President Obama is pulling US trade privileges for Bangladesh to force improved safety at garment factories. But this will cost poor workers their jobs and could undermine stability in this fragile democracy. Better to support a Bangladeshi-led reform agenda – with benchmarks.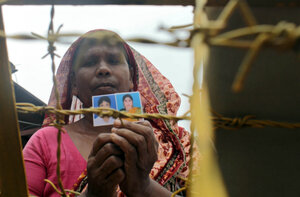 A.M. Ahad/AP
Last week, the Obama administration decided to revoke special trade status for Bangladesh – effective in late August – because of lack of progress on textile-factory safety standards. Conditions in many textile factories are indeed abysmal – as the Rana Plaza building collapse in April so tragically illustrated when more than 1,100 people were killed. But revoking Bangladesh's trade privileges will do more harm than good.
When I lived and worked in Dhaka some years ago, I often saw groups of women walking miles to their jobs in the textile factories. Most came first by bus from far-away villages, commuting two hours or more in each direction. They worked for very low wages, many of them in uncomfortable and unsafe environments.
Yet if you asked those women, they would tell you that those jobs paid for books and shoes so their children could go to school, and the jobs gave the women themselves new dignity and worth in their families and villages.
Labor advocates are understandably frustrated with the glacial pace of labor rights and worker safety reforms in Bangladesh. At a hearing of the Senate Foreign Relations Committee on June 6, a number of witnesses argued for revoking the special trade privileges Bangladesh now enjoys under the US Generalized System of Preferences, which aims to promote economic growth in the developing world. Yet withdrawing special trade status harms the very people labor advocates seek to help.
Although special trade status does not cover Bangladesh's chief export to the US, textiles, it does give duty-free access to more than $30 million worth of goods produced by Bangladeshi workers, whose jobs will be in immediate jeopardy. But the real impact will be felt if the European Union follows the US lead and revokes Bangladesh's privileges, affecting exports worth more than 9 billion euros (almost $12 billion), representing literally millions of jobs.
The US decision could also persuade textile retailers, many of whom are debating whether to stay in Bangladesh, to pull out and source their ready-made garments elsewhere. Textile workers would then lose their jobs long before increased worker protections could be legislated and implemented. And once the jobs are gone, the political momentum that is now growing in Bangladesh for improved fire and safety standards could well dissipate.
---