Pakistan's opportunity: a free-trade deal with rival India
Trade is not a cure-all for grinding poverty, but a free-trade deal between Pakistan and India would help foster economic growth and regional peace. And the political timing has never been better. Pakistan's new prime minister, Nawaz Sharif, should seize the moment.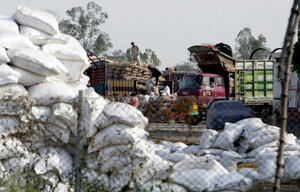 K.M. Chaudary/AP/file
Pakistan's new prime minister, Nawaz Sharif, confronts no shortage of challenges: an economy at risk of collapse, a woefully inadequate electrical supply that causes rolling blackouts across the country, rising ethnic and sectarian tensions, and the threat of internal terrorism.
Yet Mr. Sharif also has a significant economic and political opportunity, and he should seize it. Pakistan is due to normalize trade relations with India this year by granting its neighbor and strategic rival most-favored-nation trade status. Sharif should go further and pursue a full-blown India-Pakistan free-trade agreement, much like the North American Free Trade Agreement.
The longstanding animosity in India-Pakistan relations has left South Asia as one of the world's least-integrated regions. Since the two countries were created in the 1947 partition of British India, they have fought four wars.
As a result, intraregional trade in South Asia accounts for only 5 percent of the region's total trade, a proportion dwarfed even by Africa's 10 percent of intraregional trade (not to mention East Asia's 53 percent). Existing organizations such as the South Asian Association for Regional Cooperation have been unable to promote anything more than cosmetic integration.
The Pakistan-India border is 1,800 miles long, but trade flows only through one official crossing. Elaborate customs procedures, difficult visa regimes, and restrictions on foreign investment make trade between the neighbors difficult at best. Clearing away these obstacles could boost trade to $40 billion a year, analysts estimate, compared with less than $3 billion last year.
Trade is not a cure-all for stunted development and grinding poverty, but it would help foster growth in two countries whose lack of openness to each other hinders their economic advancement. A free-trade agreement would lead to increased investment and tourism for both countries, reduced prices for consumers, greater revenues for businesses, and a newly diverse and more innovative group of suppliers for both countries' people.
---