Muslim women of today – not just the past – must be respected in Egypt, Syria
In Egypt and Syria, a shrine and mosque named for two of history's most prominent Muslim women are at the center of the conflicts there. These nations must be inclusive of Muslim women of today to help bring the healing peace taught by the Muslim women of the past.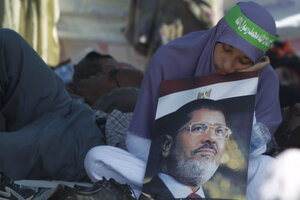 Amr Abdallah Dalsh/Reuters
This week in Egypt and Syria, two prominent Muslim women have been at the center of the action – but no one has really bothered to mention them. Maybe that's because they died several centuries ago.
Violent protests at a mosque in Egypt named for one and mortar attacks at a shrine in Syria named for the other have obscured the powerful teachings and extraordinary lives of two powerful Muslim women from the past – women who have lent more than just their names to the history of Islam and the location of present-day conflicts.
Since millions of protesters began flooding into Egypt's Tahrir Square last week, the supporters of deposed President Mohamed Morsi – dominated by the Muslim Brotherhood – have been camping out in front of the Rabia el-Adawiya mosque. The irony here is that the Islamist party that many feel treats women as unequal has been rallying at a mosque named after the most famous female mystic in Islam who died around 801.
At the time that Rabia el-Adawiya lived in Iraq, she was praised by women and men alike for her mystic devotion to God and her life of Sufi simplicity and sincerity. Carrying a torch in one hand and a bucket of water in the other – to set fire to heaven and put out the flames of hell – she famously proclaimed:
"O God! If I worship You for fear of Hell, burn me in Hell,
---