To combat hunger, give land rights to world's poor women
A lack of land rights for the poor fuels global hunger. With no ownership, land is poorly cultivated, and families subsist as day laborers or indentured servants. Giving land to the poor, especially women, allows them to grow food for their families and sell crops to pay for education.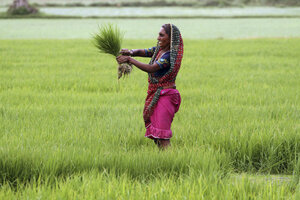 Ajit Solanki/AP
When world leaders gathered in London last month to join British Prime Minister David Cameron's Hunger Summit, they secured pledges of more than $4 billion to fight world hunger. But for all their efforts to address rising food prices, famine prevention and response, and food distribution, hunger and malnutrition will continue unless one of its fundamental root causes is addressed: the role of secure land rights – especially for women.
The poorest and hungriest people on the planet share three key traits: They live in rural areas, rely on the land to survive, and have no legal rights to the land they rely on. This means that the land on which they live or work is owned by someone else, such as a large landowner or the government, and that they therefore have no control over the land and do not have secure rights to stay there for the long term. Often, these landless people are sharecroppers, day laborers, or indentured servants.
Many things lead to or exacerbate landlessness. In many countries, there was highly unequal initial land distribution, meaning a few people own much of the land. More recently, rapid population growth, natural resource degradation, and conflict have led to increased pressure on the land and a growing number of landless people. Finally, women are especially vulnerable to becoming landless because of inequitable inheritance practices.
This landlessness impacts farmers in fundamental ways. It means they have no incentive to invest in the land, with inputs like fertilizer, and no opportunity to make big decisions about the land, like digging wells. Therefore, when they are able to make decisions about what to farm, they generally aim to produce a crop that matures quickly and requires little financial investment.
---