Obama's proposal to tax municipal bonds will hurt states, cities, and Americans
A proposal to impose a federal tax on revenues from municipal bonds would be a destructive and unconstitutional way for profligate Washington to raise funds. The tax would deter investors and squeeze cash-strapped states and cities like Detroit. Americans would pay the price.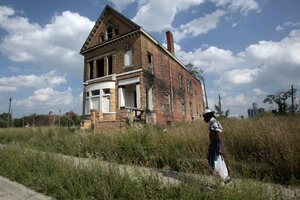 Rebecca Cook/Reuters
It is hard to imagine a more destructive and less constitutional way for the US government to raise revenues than with a new tax proposal now afloat in Washington.
In February, the US Senate passed a budget resolution calling for taxation of previously tax-exempt municipal bonds. In April, President Obama's budget repeated the call. For the first time since 1913, when the 16th amendment – which established the income tax – was ratified, the federal government is considering taxing investors' municipal bond income.
Presented as closing high-end "tax loopholes," taxing municipal bonds, known as "munis," would impose crushing new expenses on US states and municipalities – the consequences of which would be felt by citizens at every income level.
If taxes are imposed on muni bond income, will investors lend US states and municipalities money at all? Investors already have more reasons than they need to say "no" to state and local government paper: rising interest rates that have sent the bond market into decline, mounting dangers of default (Detroit has declared bankruptcy), and poor financial disclosure. Detroit is not alone. With one city after another on the edge of bankruptcy and some states not far behind, the proposal could not come at a worse time.
By some estimates, the hike in state and municipal borrowing costs could exceed 70 percent. Some states simply could not afford to borrow for new projects.
Consider what that means. Three quarters of US infrastructure projects are the work of state and local governments. Tax-exempt bonds finance them. But the bonds' uses don't stop there. Yes, bonds fund roads, bridges, schools, libraries, hospitals, prisons, and sewer systems. But bonds also provide disaster relief. And when old debt matures (comes due), municipalities must issue new bonds to pay off the old – a process known as "rolling."
---