A modest proposal for Zimbabwe's Mugabe
A flawed election in Zimbabwe has Robert Mugabe preparing for his seventh inaugural. Typical of Africa, the opposition could not unseat him. But here's a way forward: Appeal to his concern with legacy so that he swears off running again. This can lead to an open succession.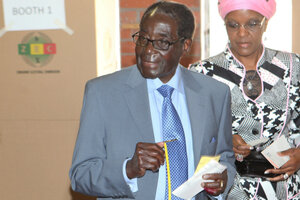 Tsvangirayi Mukwazhi/AP
In the halting advance of democracy in Africa, victory by an opposition party remains an elusive benchmark. It happened last year in Senegal and in the island nation of Mauritius 12 years earlier.
But these are rare exceptions. Flawed elections that tilt toward the ruling party, like the elections just held in Zimbabwe and earlier this year in Kenya, are closer to the norm.
There are several reasons for this. Few constitutions in Africa are truly sound and enduring. The ruling elite still enjoy all the advantages – such as control over the courts, security forces, and how elections are conducted. African leaders seldom hold each other to the standards they have signed and agreed to keep. Opposition parties often splinter behind candidates who are politically inexperienced or otherwise compromised and too easily out-maneuvered by the party in power.
For the third time in just over a decade, Robert Mugabe, Zimbabwe's sole leader since independence in 1980, has fended off a credible opposition challenge with questionable procedural rules that favored his party in national elections July 31. A manifestly flawed voters' roll included scores of fictional and deceased persons. Voters waited interminably at the ballot box. Intimidation was again evident and Western observer groups and media were banned. Botswana, Zimbabwe's neighbor, has broken ranks with other African observers and said the election did not meet acceptable standards, and warned other African nations against accepting the results. There was little of the violence that marred the 2008 vote, but that calm may simply have beguiled the opposition into believing that this time it had a fair shot.
---