To stop elephant and rhino poachers, dissuade buyers in China and Vietnam
Elephant and rhino populations in Africa are being decimated for ivory and rhino horn. In a vicious cycle, buyers in China and Vietnam fund terrorists in Africa who rely on crime groups and poachers. A social media campaign in Asia must make buying these products abhorrent.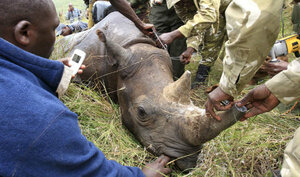 Thomas Mukoya/Reuters/file
President Obama's announcement last month that the United States will contribute $10 million to combat rhinoceros and elephant poaching in Africa comes at a crucial time to address an ecological catastrophe.
In 2012, a shocking 30,000 elephants in Africa were slaughtered for their ivory, 7.4 percent of the entire population. Rhinos are in an even more precarious situation. Last year in South Africa, the last bastion for these species, 668 rhino were killed for their horns. This year, as of July 31, 536 rhino have been poached in South Africa. This is out of a global population of fewer than 30,000 rhinos, compared to 500,000 in Africa and Asia at the start of the 20th century.
Why is this important?
Terrorist organizations like Al Shabaab and the Lord's Resistance Army, and militant groups from Africa's Sahel to Somalia, are slaughtering elephants and rhinos to fund their violent activities. International crime syndicates, acting as middlemen, earn hundreds of millions of dollars trafficking in ivory and rhino horn. Purchasing these products enables these groups to have the funds to be a persistent threat to global security.
For countries like Tanzania, Kenya, and South Africa, home to these charismatic species, their existence fuels an ecotourism industry that generates millions of jobs and billions of dollars in foreign exchange. Wipe out these animals, and the tourists who come to see them will vanish. Jobs and futures will follow suit and many people will be tossed into a life of grinding poverty.
---