Wise up, Israelis. Prolonged civil war in Syria is bad news for you.
Some Israelis have suggested that continuing conflict in Syria is good for Israel, as its enemies are occupied fighting each other. This view is morally reprehensible, but also shortsighted. Ending the bloodshed in Syria is in the best interests of all, including Israel.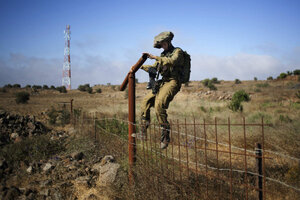 Ariel Schalit/AP/File
Could Syria's civil war could be good for Israel – and America? That's the view some Israeli commentators have suggested lately. For them, the thinking goes like this: As long as Israel's neighbors and enemies are occupied fighting each other, their attention will be diverted from Israel.
But finding merit for Israel in the continuation of Syria's civil war is not just morally reprehensible; it also reveals a level of shortsightedness and misunderstanding of the new regional dynamics. Stopping the bloodshed and allowing the Syrian people to restore peace and stability in their country should be seen as a key interest of all regional actors, including Israel.
When political protests against the Assad regime first erupted in Syria, the reaction from the Israeli government was overall ambivalence.
On the one hand, pro-status quo analysts argued that Syria's President Bashar al-Assad was both a predictable and relatively risk-averse neighbor, and that his triumph over the opposition forces would be a positive outcome for Israel. A second school of thought argued that Israel has a strong interest in seeing a change in the status quo in Syria, as this would deliver a hard blow against two of Israel's main regional foes, Iran and Hezbollah.
---