America – and Obama – must be ready to act alone in strike against Assad, Syria
President Obama's decision to seek congressional approval and global support for a strike against Syria is laudable. But the US – and Mr. Obama – might have to go it alone. Chemical weapons are in a terrible class by themselves. The world must maintain its taboo against them.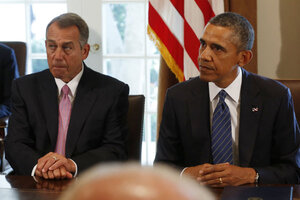 Larry Downing/Reuters
In the late 1980s, Saddam Hussein's cousin Ali Hassan al-Majid explained how he was going to put down a Kurdish rebellion in northern Iraq. "I will kill all of them with chemical weapons," boasted "Chemical Ali," as he was later called. "Who is going to say anything? The international community?"
Between 2,000 and 5,000 Kurds died in chemical attacks in 1988, and – as Chemical Ali predicted – "the international community" did nothing to punish Iraq. And that's precisely why it needs to move quickly against Bashar al-Assad, who has, according to a US assessment, deployed chemical weapons against his own people in Syria. For almost a century, the world has maintained a steadfast taboo against using such weapons. We can't let up now.
I'm glad that President Obama decided to seek congressional approval before proceeding with a strike against Syria, which would give any such action more legitimacy at home. And I also admire his efforts to get the rest of the world behind a strike. But if that doesn't work, the US – and Mr. Obama, as commander in chief – might have to go it alone.
You may have read that Adolf Hitler and Nazi Germany invented "nerve agents" of the kind that were used in Iraq – and, it seems, in Syria. What you might not know is that Hitler despised chemical weapons, consistently rejecting his aides' appeals to use them on the battlefield.
---