Do Americans love their dogs too much?
Americans spend $61 billion on their pets each year. It would take $20 billion to end homelessness. If dogs are as smart as we think they are, they'd go without a jewel-studded collar or cable subscription to DOGTV if it meant giving humans a place to sleep at night.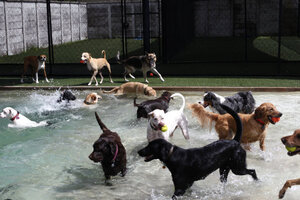 Eve Edelheit/The Tampa Bay Times/AP
Every few years it seems there's a new study that shows how smart dogs are. Three or four years ago, it was revealed that the smartest dogs had a vocabulary of up to 500 words. Shortly afterward, I read an article that teaches you how to test your dog's IQ. We're familiar with guide dogs, but now some dogs have even been found to help patients better deal with epileptic seizures. And now comes undeniable evidence of just how intelligent dogs are: They have their own cable station.
DOGTV is available on Direct TV. Not programming about dogs for dog owners (the majority of whom would rather be called "parents" than "owners"). No, this is programming for "stay-at-home" dogs. DOGTV's website says its pooch-friendly programming is "scientifically developed to stimulate and comfort your dog" when left alone. DOGTV says its content helps dogs overcome stress, separation anxiety, and other behavioral problems.
As a sign of our evolutionary achievement, scientists point to how much leisure time we humans have. Dogs have obviously advanced far beyond us. They're born into a life of retirement while we spend most of our life working toward that goal. And they say the average dog's IQ is only 10.
And now we have to work a bit more to pay for DOGTV – $4.99 per month. Which will actually be a bargain compared to what we pay for pet massage, spa days, acupuncture, doggie day care, pet sitters, and birthday gifts. Yes, 77 percent of us pet parents admit to buying our dogs birthday gifts. I guess that makes sense if 81 percent of us think of our dogs as full-fledged family members.
I have lived with dogs all my life, usually two at a time. I'm pretty crazy about Henry, our giant Golden Doodle, and Luke, our scrappy mutt. And I'm tempted sometimes to think of them as wayward children. But not tempted to treat them to birthday gifts, spa days, or gourmet meals. And as far as I can tell, they don't seem to mind. They jump on me and lick my face every chance they get.
But Henry and Luke aside, it seems many dogs fare better than their school-age family members when it comes to spending during tough economic times.
---