Why Obama's old bag of tricks won't persuade Congress, Americans on Syria
No political spin can negate the political risk associated with supporting intervention in Syria. As Obama makes his case for military strikes to Congress and the American people, he should offer straight talk on why he thinks his policy is in the long-term interest of the country.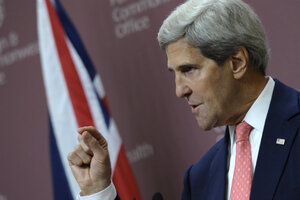 Susan Walsh/AP
In the Syria debate, President Obama's toughest opponent is State Senator Barack Obama. In 2002, when he was an Illinois legislator, he made a speech against the Iraq War. Military action did not make sense, he said, because Saddam Hussein posed "no imminent and direct threat to the United States or to his neighbors," and President Bush was acting "without a clear rationale and without strong international support."
Not only does the speech supply opponents of a Syria attack with quotable lines, it also serves as a reminder that a vote for military action in Syria carries huge political risk while a vote against it can become a political asset.
This is why Mr. Obama cannot rely on political spin (and his campaign heavyweights) to make his case for strikes in Syria to Congress and the American people. Instead, he must make a strong strategic and moral argument that military action in Syria best serves America's long-term interests and security.
Indeed, from a purely political viewpoint, lawmakers would find greater appeal in arguments for the other side. One model is Obama's own 2002 speech, which helped him draw support from antiwar activists during the 2008 Democratic nomination contest. That speech enabled him to say repeatedly, "I am the only candidate who opposed the war in Iraq from the beginning." He drew a sharp contrast with Hillary Rodham Clinton, who had voted for the war as a US senator from New York. He asked: "Who got the single most important foreign policy decision since the end of the cold war right, and who got it wrong?"
---