How to secure Syria's chemical weapons
President Obama is willing to push for a deal in which the international community would verifiably secure Syria's chemical weapons. That course will be difficult to pursue. But it is doable. Here's what's required.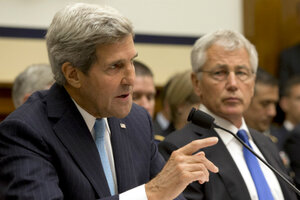 Jacquelyn Martin/AP
The blatant use of chemical weapons by Syrian government forces requires a strong international response. A limited military strike as laid out by President Obama in his speech to the nation last night remains an important option of last resort. Another even more effective option is for the international community to secure and destroy Syria's sizeable cache of these weapons, a possibility that suddenly surfaced this week when it was strongly pushed by Russia. This, too, is doable – though very difficult.
The raging civil war makes the work of weapons inspectors more challenging. Syrian leader Bashar al-Assad has not been forthcoming about even possessing chemical weapons, which are strewn around the country, and Syria is not a signatory to the Chemical Weapons Convention. Diplomatic hurdles to a deal abound. Such obstacles would have to be overcome to effectively control and destroy these horrific weapons. But that's not impossible. Here's how such a plan could work.
First, Mr. Assad would have to pledge to immediately accede to the Chemical Weapons Convention and declare his chemical stockpiles, production facilities, and related laboratories as required under the treaty. This would not only help to reassure the international community, it would provide a legal framework and road map for how to secure these weapons of mass destruction.
---