How to win the next Mideast war – over water
The Middle East and North Africa – the world's most water-scarce region – will soon face a severe water crisis. That could create an even greater challenge than today's upheavals. More attention must be paid to the problem. Conservation, communication, education, and technology can help.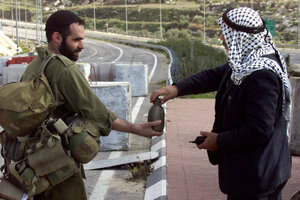 Jim Hollander/Reuters/File
A few decades from now, nations in the Middle East and North Africa could face potentially catastrophic water shortages that could pose an even greater challenge than the upheavals gripping Syria, Egypt, Lebanon, the Palestinian territories, and elsewhere.
Unfortunately, the water crisis over the horizon doesn't receive much serious attention from policymakers, the media, and the public because so many other crises plague the troubled region right now.
Contrary to popular belief, the most important liquid in the Middle East and North Africa isn't the vast supply of oil that brings in billions of dollars every year. It's water, and the scarcity of this vital resource could leave some nations unable to meet the needs of rapidly growing populations in less than 40 years.
The Middle East and North Africa are the world's most water-scarce region. The desert climate and lack of rainfall make people almost entirely dependent on groundwater and the surface waters of the Nile, Jordan, Tigris, and Euphrates Rivers to meet their daily needs for drinking, growing crops, and commercial and industrial projects.
Historically, the region's population has been small enough to get by with a very limited water supply. But since 1950, a sustained population boom has pushed the number of people in the region to about 300 million – nearly as large as the water-rich United States.
A quick look at population figures from a few key countries shows why the region's water stress is certain to intensify during the next few decades.
Syria's population stood at 3.5 million in 1950. The population has since soared to nearly 22 million and is expected to surpass 36 million by 2050.
---