Democrats forced government shutdown. GOP is just trying to protect US from Obamacare.
Conservatives in Congress do believe in funding the government, but also want to save the American people from Obamacare's harmful effects. Unfortunately, Democrats have insisted that the only way they will keep the government open is if Congress funds every last word of that law.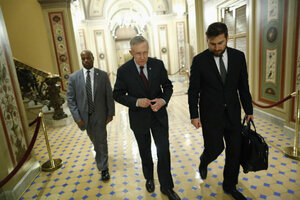 Jonathan Ernst/Reuters
In the debate surrounding the partial US government shutdown, rhetoric and scare-mongering often seem to be overwhelming the facts. Lest they be lost, here are some highly pertinent facts about the shutdown fight, and about Obamacare.
First, fiscal conservatives in Congress want to fund the government – all of it – except for Obamacare. The House of Representatives, which takes the lead on budget and tax bills, has passed – several times now – legislation that would defund or eliminate portions of the widely unpopular health-care law, while fully funding all other federal operations.
The Senate, controlled by Majority Leader Harry Reid (D) of Nevada and the Democrats, has so far rejected the lower chamber's attempts to keep money flowing to government operations. In case the Senate continues to rebuff these attempts, the House has taken the precaution of passing legislation (which the Senate approved and President Obama signed into law last night) that would ensure that our military personnel around the world will continue to receive their hard-earned pay during the shutdown.
Second, the Obama administration's stated position for months amounts to agreeing to the shutdown of the government. The president's advisers have publicly threatened to veto multiple House-passed spending bills. Those threats came because the president and his allies want to replace spending cuts already agreed to under the Budget Control Act with more tax increases. In other words, if Mr. Obama and Sen. Reid didn't shut down the government to insist on funding Obamacare, they likely would have shut down the government to essentially insist on spending more.
---