US Supreme Court must not ignore inequality
In cases on campaign finance (McCutcheon v. FEC) and affirmative action, the US Supreme Court will again consider how best to ensure 'a level playing field.' The Roberts court should be careful not to favor an idealized principle of equal treatment that ignores social realities.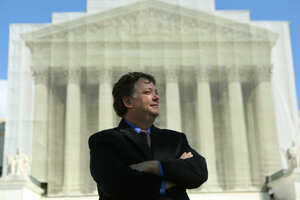 Gary Cameron/Reuters
The Roberts court is deeply skeptical of what it perceives as social engineering, and that skepticism will again be tested as the Supreme Court's new term begins this week.
Under Chief Justice John Roberts, the conservative majority has viewed government attempts to "level the playing field" as contrary to the constitutional values of the United States. It has demonstrated this concern in several important areas, including race and elections. Both issues will return to the court this year for further refining. Today, the court will hear arguments on campaign finance rules in McCutcheon v. Federal Election Commission. It would be troubling if the majority rules on these cases as it has in the recent past, interpreting the Constitution to mandate an idealized principle of equal treatment that ignores contemporary social realities.
The court will revisit racial preferences when it hears arguments in Schuette v. Coalition to Defend Affirmative Action on Oct. 15. The court will be asked to decide whether a voter-approved, constitutional amendment that bans race- and gender-preferences in Michigan conforms to the US Constitution. Michigan featured in a landmark ruling in 2003, when the high court upheld favored admissions for underrepresented minority groups at the University of Michigan Law School.
---