How 'reasonable Republicans' could oust Speaker Boehner
House Speaker John Boehner has spent much of his speakership placating tea party conservatives. Now, he should worry more about the 23 mainstream Republicans who hate debt-ceiling brinkmanship and government shutdown. They could join with Democrats to oust Boehner.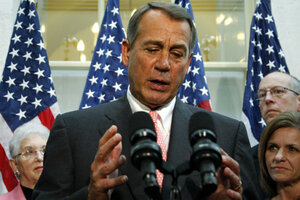 Jonathan Ernst/Reuters
The word in Washington this morning is that House Speaker Boehner has a deal in the works to temporarily raise the debt ceiling limit. This is good news, as it would avoid default. But it won't eliminate the debate over spending and Obamacare that will surround budget negotiations. And there's still no guarantee the tea party members of Mr. Boehner's party will agree to support this deal, putting him right back in the position he is in now – reluctant to bring a bill to the House floor without the majority support of his party.
Boehner has spent much of his speakership worried about placating tea party conservatives. But if he again bows to their demands over a short-term debt-ceiling extension, he should be more worried about those in his caucus who hate this shutdown and the debt-ceiling brinkmanship. There are at least 23 of them – "reasonable Republicans" who could join with Democrats to occupy a powerful middle ground – and even oust Boehner as speaker.
Removing a speaker has actually never been done before, but neither has America seen this level of rancorous/reckless obstructionist politics exerted by the tea party to the threat of the entire government – and even the economy. Desperate times may just call for desperate measures.
The procedure to oust the speaker gets to the floor as a privileged motion. It takes one member to put it on the calendar, and there's really no way of stopping the motion if the votes are there to support it. Boehner, to stay as speaker, would need the support of a majority of all members present and voting.
Why would any honest Republican support such a move and risk being branded a traitor, a RINO (Republican in Name Only), or worst of all, an Obama-enabler? Recent primary elections have seen tea party candidates defeat incumbent Republicans deemed not conservative enough.
---