Libya needs outside help to avoid perpetual war
The abduction of Libya's Prime Minister Ali Zeidan yesterday shows that Libya is unlikely to emerge from anarchy without outside help. NATO should train government security forces. The UN or EU should sponsor a disarmament conference with the militias destabilizing the country.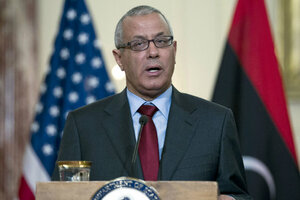 Jose Luis Magana/AP/file
Early on Thursday, Libya's Prime Minister Ali Zeidan was taken from his hotel in Tripoli at gunpoint. Though he was released a few hours later, the kidnapping is a sad commentary on the state into which Libya has fallen in the two years since Muammar Qaddafi's death – and a harbinger of an ominous future ahead. Mr. Zeidan's kidnapping also points to the difficulties that have plagued the West's relationship with the country that NATO warplanes helped free from Qaddafi in 2011.
History has repeatedly shown that after civil wars, if security does not improve, progress on political and economic challenges is nearly impossible. This is exactly what has happened in Libya since their war ended two years ago. Libyans' hard-won freedom from Qaddafi is slipping away due to the breakdown of efforts to integrate and disarm the hundreds of armed militias that roam the country.
Libya is very unlikely to emerge from its current anarchy without at least some outside help. Given the commitment it made to bringing Qaddafi down, NATO has a clear role to play here in training government security forces. The United Nations or European Union should also sponsor a national disarmament conference to address the armed militias destabilizing the country. All three of these international actors should meanwhile begin contingency planning for the possibility that another civil war might break out – even as they do what they can to prevent it.
Since the end of the 2011 war, several hundred people have been killed in clashes between militias. Terrorist and guerilla-type attacks have become common. Insecurity and violence were at first confined to the southern and the eastern provinces, but have now spread to the capital itself, where powerful militias now face off against one another.
The government does not control its own forces. The group that apparently kidnapped Zeidan in theory reported to the Ministry of Interior, but in reality answers only to itself. The elected government has been forced to conduct business under constant threat of violence from armed revolutionaries who mill around outside the General National Congress and occasionally storm the building or hold political leaders at gunpoint.
---