Supreme Court must realize affirmative action doesn't improve education
As the Supreme Court hears arguments in Schuette v. Coalition to Defend Affirmative Action today, my view as a University of Michigan Law School professor is worth considering: Racial diversity has virtually no effect on educational quality and isn't the real rationale for the policy.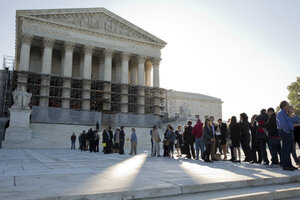 Joshua Roberts/Reuters
I teach at the University of Michigan Law School, the subject of the landmark 2003 Grutter v. Bollinger case in which the Supreme Court upheld the university's affirmative action admissions policy. Now, a decade later, the court hears arguments in the case of Schuette v. Coalition to Defend Affirmative Action, which deals with a 2006 Michigan ballot initiative that bans affirmative action in public education and employment.
So far, the Supreme Court has permitted affirmative action, but with limitations. The judicial decisions on this issue have focused on the educational value of having diversity in the student body. But I have observed from my experience that racial diversity has virtually no effect on educational quality and is not the real rationale for the affirmative action policy.
In my view, the true rationale for affirmative action comes from the view that it is problematic – perhaps even intolerable – to have a significant segment of society left out of the mainstream of prosperity and power. If Americans are to live harmoniously together, all parts of society should participate in its important functions. That justification explains why preference is really given to minorities: They also should be able to participate in the American dream.
Universities contend that a diverse student body improves the educational quality of classes and that a critical mass of minority students is needed for that purpose. Having diverse students is said to bring different perspectives and viewpoints into the classroom. But in fact, from what I've seen, ethnic and racial diversity has very little effect, if any, on the quality of classes. "Diversity" became a useful tool to sway the courts and public opinion to support affirmative action, but it looks to me like more of a rationalization than a rationale for the program.
There is a case for diversity's benefiting student life outside of the classroom. But even there, the benefits are not so substantial as to justify a large-scale program that rests on utilizing race or ethnicity as a factor in choosing a student body. Moreover, socializing students is not the main function of a university.
---