To help John Boehner herd cats, bring back earmarks (and other ways to fix Congress)
Three key reforms could improve governance in Congress and lessen the disunity that plagued Speaker John Boehner and the Republicans throughout the debt-ceiling and government shutdown debate. Congressional leaders need more influence over their members, not less.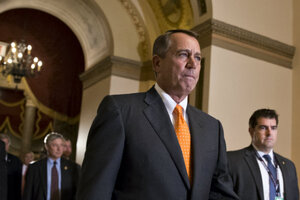 J. Scott Applewhite/AP
If you asked Americans to name problems with American politics, they might point to political back scratching in Congress
But it isn't a problem. It's the solution. Giving congressional leaders more leverage to influence their members will help lessen the kind of in-party disunity that plagued House Speaker John Boehner and the Republican Party throughout the debt-ceiling and government shutdown debate.
Consider how Congress got into the trouble of the last few weeks. In his public statements over the years, Speaker Boehner (R) of Ohio made it clear that he did not want a government shutdown, much less a near-default. He served in the House GOP leadership during the 1995-1996 shutdowns, so he knew how much political turmoil could ensue.
But to make deals with President Obama and the Democratic-controlled Senate, he needed support from his own followers – and time after time, tea party Republicans declined to give it.
On Netflix's House of Cards series, a leader can bend colleagues to his will, so why can't Speaker Boehner? The answer, in a word, is leverage. Whereas the show's House Majority Whip Frank Underwood has a seemingly limitless supply of favors to grant or withhold, the real-world speaker does not. Strengthening the speakership means restocking the office with carrots and sticks.
Campaign finance would be a good starting point. Some Americans may believe that politicians giving campaign money to one another is problematic fodder for underhanded deal-making. In fact, it's essential lubrication for legislation.
Money doesn't necessarily buy votes, but it does buy attention – and greases the wheels for the kind of loyalty and cooperation that are essential to governing. Giving congressional leaders more liberty to support members' campaigns would help further those critical relationships.
Federal law limits how much money any congressional leader can contribute to a party colleague. Although it takes well over $1 million to win the average House seat, a speaker's political action committee can only give $5,000 per candidate per election.
---