Oil and gas development is key to US future. Don't ban it. Regulate it.
Oil and gas production through 'fracking' and horizontal drilling will improve US energy security – and support US foreign policy. This development should be encouraged. The reasonable response to environmental and health concerns is sensible regulation, not wholesale bans.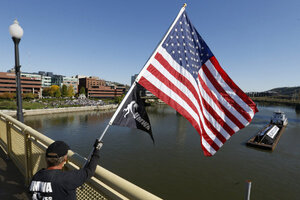 Keith Srakocic/AP
Hydraulic fracturing ("fracking") and horizontal drilling are allowing the United States to produce greater quantities of domestic oil and gas, bringing closer the once unthinkable prospect of America being a net energy exporter within the next decade.
The International Energy Agency reported this summer that such technologies are "unlocking" hard-to-reach resources and driving "the recent rebound in US oil and gas production." The environmentally careful application of these technologies offers opportunities to improve domestic energy security – as well as support America's foreign policy. This development should be encouraged.
Of course, fracking, or more broadly, oil and gas development, is an industrial activity and can cause negative environmental effects. But many modern industrial and everyday activities have environmental or human health risks. The reasonable response is sensible regulation, at both the federal and state level, rather than wholesale bans.
For example, it would not make sense to propose closing the Interstate Highway System, despite the thousands of deaths annually associated with Interstate use. Instead, we manage the risk through highway design, speed limits, and improved safety features (e.g., anti-lock brakes and air bags).
Likewise, states and the federal government are regulating fracking. Last year, the Environmental Protection Agency required that by 2015, drillers capture "fugitive" emissions at oil and gas wellheads rather than release them into the air. The EPA predicts this will also reduce leaks of the greenhouse gas methane by 25 percent.
The Government Accountability Office reported in 2012 that of six shale-producing states studied, all required protective cementing of well bores, disclosure of chemicals used in fracking, and regulated waste-water injections. Five of the states required wells be set back from water sources.
In short, fracking should be encouraged in a way that rationally addresses public and environmental health while producing the energy needed to meet demand.
Looking ahead, even if wholesale US energy demand dips, demand outside the US – principally in China and India – will continue to grow.
The US Energy Information Administration reports that world energy consumption will grow by 56 percent between 2010 and 2040. Global natural gas consumption will grow by 1.7 percent per year and will be the fuel stock for about a quarter of the world's electricity by 2040. Overall, fossil fuels will continue to supply almost 80 percent of world energy use through 2040. The US has the potential to meet that global demand – in addition to its own domestic energy needs.
Last year, the International Energy Agency made the astonishing prediction that the US will become the world's largest producer of oil by 2020 – for a time surpassing Saudi Arabia and Russia. The energy agency also predicts that by 2035 the US will be close to energy self-sufficiency.
Domestic gas supply has shifted just as dramatically. As recently as 2003, then-Federal Reserve Chairman Alan Greenspan testified to Congress on the negative economic effects from tight gas supplies and the imperative to import liquefied natural gas.
---