Reagan and Clinton as American idols? Not so fast.
The majority of Americans consider Ronald Reagan and Bill Clinton as 'outstanding' or 'above average' among the modern presidents. Pollsters and historians need an edict: Wait 50 years before judging the greatness of presidents and their legacies.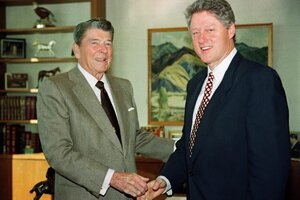 Gary Hershorn/Reuters/file
The American public tends toward a rush to gush. In February, the Gallup Poll queried the public on how recent presidents, beginning with Richard Nixon, will go down in history. Ronald Reagan and Bill Clinton remain the public's favorites, with 69 percent judging Mr. Reagan as "outstanding" or "above average," and 60 percent saying the same about Mr. Clinton.
Whatever their statistical validity, such polls tend to be fabulously misleading, blurring the line between popularity and presidential accomplishment.
The question inspires nostalgia, rather than an objective view. We excuse ourselves from the onus of judicious thinking, settling for fickle notions about "popularity" or even physical beauty.
Last month, PBS aired a four-hour documentary on Clinton. Much of it was painful to watch, especially the ordeals that he inflicted on the nation over his sexual exploits, lying, impeachment, and quest for public redemption.
The behavior overshadowed his presidency to such an extent that it automatically disqualifies him from a presidential pantheon, despite the robust economy he left, including a whopping budget surplus that his Republican successor frittered away.
But methinks the real thespians of the Clinton tragedy are the American people who manage to overlook his past mendacity and betrayals and still give him a standing ovation when he walks into an NBA basketball game.
There is a particularly telling moment in the PBS documentary, when, with his back to the wall, as it often was, Clinton was said to have shouted at his staff, "Tell me what to do!"
William Hazlitt, the 19th-century English literary critic and essayist, wrote, "No man is truly great who is only great in his own lifetime. The test of greatness is the page of history."
---