Political dynasties (Romney, Bush, Kennedy) betray basic American values
Families like the Kennedys, Bushes, and Romneys will likely ever seek political power – and the public may well respond with a certain star-struck awe. But hereditary ambition and home-grown royalty run counter to the American Revolution premise 'that all men are created equal.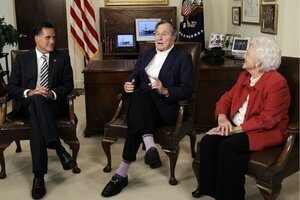 Pat Sullivan/AP
Once again, America's leading political dynasties are holding high the family standard in an election year.
In Massachusetts, another Kennedy is racing toward Congress. This time, it's Democrat Joseph P. Kennedy III, the grandson of the late Robert F. Kennedy, hoping to fill the vacancy of retiring Rep. Barney Frank.
"I'm very proud of my family's record of public service to the Commonwealth and the country," the young Mr. Kennedy has said. I don't doubt his desire for service, but he's also trading on the family name – and fundraising and other powers and privileges that go with it. That's not what the Founders envisioned for the new republic.
Meanwhile, in Texas and Florida, the Bushes are using their endorsement clout in an attempt to wrap up the messy Republican primary. It's time for "the party to get behind" Mitt Romney, former President George H.W. Bush says.
His wife, Barbara – who referred to her son George W. as "the chosen one" before he even became president – has recorded a robocall for Mr. Romney's campaign. Jeb Bush, another son and a former governor of Florida, has also endorsed Romney.
(A reasonable question: If Romney loses to Obama, will Jeb run in 2016? It's a job he has said he has wanted since he was a kid.)
---