Do we really want to curl up with an e-book?
(Read article summary)
E-books and e-readers work well with page-turners, best-sellers, and text-heavy tomes -- not so well when a book needs images or a book-lover needs the look and feel of ink and paper.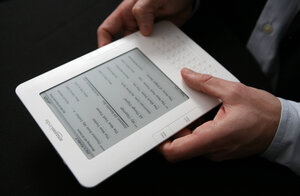 Mark Lennihan/AP/File
As the Kindle, Nook, and other e-readers grow in popularity, book lovers find themselves standing where two roads diverge.
One way, at least for now, works best when message is more important than medium. The e-reader is great for textbooks and bestsellers, not so great when graphics, photos, and other embellishments are needed. "Introduction to Philosophy" and the latest Stephen King page-turner are good e-reader candidates. (Recognizing the utility of e-readers, the Monitor will be available on several of them in the very near future.)
But many books can't easily be reduced to byte size – at least not yet. Antoine de Saint-Exupéry's "The Little Prince," Dr. Seuss's "The Cat in the Hat," and James Thurber's "My Life and Hard Times" would be sadly diminished without their charming illustrations. A cookbook sans mouth-watering images is thin gruel. A gardening book without spring blooms is a wintry experience.
E-readers are not yet enabled for visuals beyond the gray scale. That will change as technology and battery life improve (for a deep look at e-books, see this Monitor article). Eventually, the experience will be like the Internet. Want to make the perfect omelet? You can read about it in any basic cookbook, but on the Web you can also watch a video, post a comment, and participate in a real-time colloquy on egg-flipping. That's undeniably useful.
Like newspapers, however, books are more than information delivery devices. Their physicality is cherished, perhaps more than any other dead-tree medium. They are totems in our lives. To cradle a book and read slowly is an intimate experience in which you encounter an author's unfolding ideas and skillful language. A reader can usually recall where and when he worked his way through a long novel.
---