Inventing American jobs: How small steps become big industries
(Read article summary)
Innovation is necessary to build new jobs to replace those lost in the recession. So how do you innovate? Consider the integrated circuit. It was just a matter of taking the next logical step.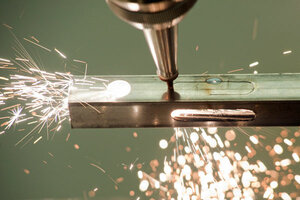 Mary Knox Merrill/Staff
Innovation is a beautiful word. Innovators are rightly revered. We owe our jobs to them, build statues to them, read their books, and listen to their sage words. How do they do it? What special food were they raised on? Did they hear the angels sing?
Management gurus break down innovation into five steps or three paradigms or six PowerPoint slides. But the more you know about innovators, the less they seem like genius wizards with secret formulas. Which is good. It means innovation is something inside us all.
I'll let Jack St. Clair Kilby be the example. Mr. Kilby was a man of few words. I sat down with him in Dallas in 1978 to ask how he had come up with his revolutionary invention, which even then – in the pre-personal computer era – had led to billions of dollars' worth of new electronics and tens of thousands of new jobs.
It wasn't magic, Kilby said, recalling a torpid August in 1958 when most of his colleagues at Texas Instruments had fled for cooler vacation spots. He was too new an employee to have earned time off, so he kept at his project, which was a problem that the US Defense Department had asked American scientists to solve.
---