Striking a balance at the US-Mexico border
(Read article summary)
In thousands of ways -- from business to cuisine -- the world's busiest border has been a boon to both nations. But border residents are battling its downsides too.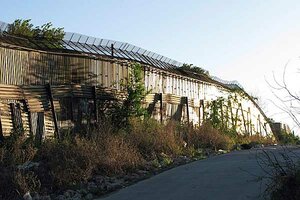 John Russell/Reuters
Other than Uncle Sam, there's no more identifiable symbol of America than the cowboy. Novelists and screenwriters have mined cowboy lore for more than a century, portraying wranglers as independent, don't-fence-me-in types.
That romantic image is engrained in American culture. Every Hollywood generation revives what the trade publication Variety calls the "oater," the horse and cowboy shoot-'em-up. Even anti-American propaganda employs the image, often portraying Americans as reckless, trigger-happy buckaroos.
The cowboy is as American as ... Mexico.
The job description, style, and even the word cowboy are rooted in Mexican culture. There were few American cowboys before settlers pushing south and west made contact with vaqueros (from "vaca" or cow) in the region Mexicans called "el Norte."
So far removed were vaqueros from the seat of Spanish colonial power in Mexico City that they attracted independent, don't-fence-me-in types. The British artist James Walker's painting "Roping Wild Horses" shows mustachioed vaqueros in 19th-century California wearing wide-brimmed hats and dapper vests while twirling lassoes.
The Spanish vacquero became the English buckaroo, The sombrero became the Stetson. Chilies, barbacoa, and hundreds of other foods that put a smile on millions of faces every day emerged from the northern Mexican frontier, enlivening the dreary diet of coffee, cornbread, and bacon that was the staple of the southern American frontier.
Anglo and Hispanic cultures have profoundly influenced each other far beyond their 2,000-mile-long border. On both sides, a great cultural fusion has been taking place. From conjunto music to business deals, tourism to sports enthusiasms, the fusion is mostly happy and productive. Sometimes it is not.
---