Dear Grads: Hope you smelled the roses
(Read article summary)
The high cost of higher education and the race to compete internationally demand that students bear down on their studies. But that's not all that college should be about.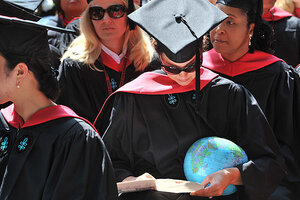 AP Photo/Josh Reynolds
Esteemed graduating class of 2010:
A wise man once said that it is best not to quote more than one wise man in a commencement address. So I won't. In my day, speakers used Bartlett's Famous Quotations and always came up with the same hoary collection of Emerson aphorisms. You kids can plug his name into Google. As for me, I'm taking the marketing approach.
For centuries, the triumph of college brand management has been the rosy afterglow you will be carrying after leaving these hallowed halls. It gets rosier with time. You may never have sung "Gaudeamus Igitur," but along with "Pomp and Circumstance" and that telephone song by Lady Gaga, these tunes will trigger fond memories of your last halcyon semester. CSN&Y's "Teach Your Children Well" does that for me.
Years from now, the development office hopes to leverage that warm and fuzzy feeling. So when you hear "nos habebit humus," please don't respond with "Stop callin'. I don't wanna think anymore." Be generous. (And, yes, that was both my age-inappropriate pop reference and my wise person quote. You may quit wincing now.)
Campus architecture also plays a myth-making role for college grads. Whether it is a cloistered chapel, a warren of urban classrooms, or a solid-citizen cluster of red brick situated on a pleasant hillside, your college's look and feel should have embedded itself in your hearts by now. The alma mater feeling can't come from distance learning. Even if you and your pals never punted on the Thames or sculled on the Charles – even if we're only talking about being dunked in the "ag pond" or participating in a foosball all-nighter – you have accumulated great memories.
---