Middle East: Beautiful to behold, wrong to romanticize
(Read article summary)
The powerful images and beliefs associated with the Middle East bring out the romantic and the radical. What's needed is practical peacemaking.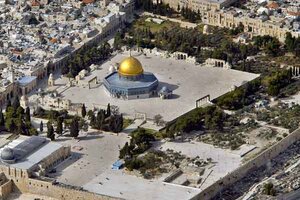 AP Photo/Lefteris Pitarakis
You've probably seen David Roberts's lovely lithographs of the Middle East. They show the soft bones of ancient temples and cities nestled into a dusty landscape. A handful of colorfully attired shepherds, holy men, and merchants usually lounge in the foreground. The whole effect is of an explorer coming upon the sleepy remains of a long-lost civilization in a now empty land.
A modern visitor standing before the walls of Jerusalem's Old City at sunset can conjure a similar image, although to do so requires cropping out the cars, tour buses, kids on cellphones, and street signs for Coke, Nestle, and Samsung. Almost everyone who encounters the Middle East brings a selective mental filter not unlike the one Mr. Roberts provided to Anglo-Americans in the 19th century. Through religion, literature, or history, the Holy Land has been part of most people's image bank all their lives.
For many Palestinians, the Middle East before the nakba -- the (in their view) disastrous war that followed establishment of Israel -- was an easy-going region of olive trees, grape arbors, and peaceful coexistence. When refugees from 1948 talk of it, the life they describe is achingly sweet.
For many Israelis, the fond memory they mention is rooted in the make-the-desert-bloom spirit of Israel just before and after its (in their view) miraculous birth. A prominent member of the Labor Party once sadly recalled how much hope there had been in those early days that his nation of resourceful refugees would be welcomed by its neighbors as a modern, can-do democracy.
Romanticism is a powerful force. It removes complexities and leaves rosy nostalgia for a time that seems more noble or beautiful or innocent than today, even if that time never existed. Despite the Zionist mantra, Palestine was never a land without a people for a people without a land. Nor was it, as Palestinians sometimes describe it, a tolerant paradise under the gently decaying rule of Istanbul.
---