Yeah, solar and wind power are nice. But you need the grid to get off the grid.
(Read article summary)
The electric grid is a massive network that delivers 14.02 quadrillion BTUs of energy a year to Americans. Getting off it altogether is virtually impossible.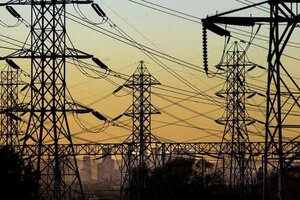 AP Photo/Nick Ut
You don't have to invest in solar panels or grow your own shoelaces to leave the grid. Most of us give it a try when we go camping. The first time you finish a plate of campfire chili and turn to face the terrors of an evening without electricity, you get a taste of it.
Sundown means dark. Dark means early to bed. Wonder what Jon Stewart said today? Tent too muggy? Sorry.
Day 1: crunchy. Day 2: better. Day 3: a canteen splash is a perfectly fine substitute for a morning shower. We reset our standards and improvise. By the end of the week, we're rigging lean-tos and whittling lodgepoles like that "Man vs. Wild" guy. When the power bars and dried soup run low, we might scheme about trapping a rabbit or harvesting ferns for salad – but that's about as far as it goes. Time to head home, do laundry, and plug in. (Hey, is that a Burger King on the left?)
Going off the grid is a fine aspiration (follow these links for a special Monitor report on the boom in off-the-grid living, including geothermal, wind, solar, and design that fosters sustainability). Going gridless is extreme conservation. At the very least, it eases the burden on power plants and leads the way in techniques for low-impact, green living. But let's also hear it for the grid. You can't make a solar panel or a hydropump with hemp and stucco. The grid runs the machines that make our tools, from power-hogging plasma TVs to the windmills of self-sufficiency. And unless you are good at skinning, spinning, and sewing, the grid also provides your clodhoppers and clothes.
---