For some veterans, wars never end
(Read article summary)
Troops now coming home from Iraq -- and those scheduled to return from Afghanistan next year -- often carry the war with them.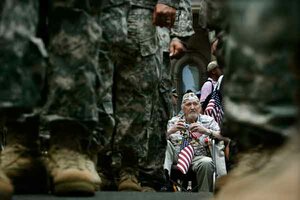 Mel Evans/AP
In the town next to mine, a World War I Browning machine gun commands a quiet intersection. Several times a year, small flags are planted next to the much-repainted weapon. Most days, passersby don't give it a second thought, even though the conflict it commemorates was so epic in its day that President Woodrow Wilson called it "the war to end war."
Frank Woodruff Buckles, who is 109, is the last surviving soldier of that war. He knows something about homecomings. Earlier this month, I reached out to him to ask him how it was when he returned – which he did twice, in 1920 at the end of the Great War and in 1945 after he was freed as a prisoner of war of Imperial Japan.
"In 1920, the parades had ended and America wanted to forget the war and move on," he said through a friend. "For World War I vets, we were forgotten again in 1932 with the bonus march. Then World War II came and was all-consuming to the world."
Every war follows an arc. It begins amid youthful excitement, the air filled with optimism about just cause and swift victory. Years after the guns have fallen silent, wars linger as a remembrance of long-ago danger and camaraderie. In between lies war's grim business – the terror, valor, and unspeakable acts; the tedium and confusion of purpose; the difficult homecoming.
Many warriors slip back into society without a hitch, but troubled returns have always been a part of history. Odysseus was unheralded when he arrived in Ithaca after 20 years away, the glory of his victory at Troy all but forgotten.
[Editor's note: The original version of article misstated the number of years Odysseus was away.]
---