Wall Street bad, Main Street good? That's too simple.
(Read article summary)
It's fashionable to blame America's economic problems on the financial industry. But the truth is that both Wall Street and Main Street got caught in the bubble mentality.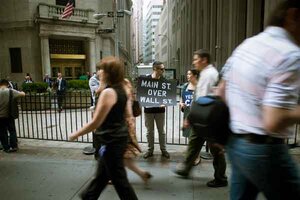 Newscom
Wall Street and Main Street are both symbols. In one sense, Wall Street is more real than Main Street. You can point to it on a New York City map and can walk its eight blocks in 10 minutes. There's a little bit of Main Street on Wall Street, small businesses like Red Eye Gifts, which features hammocks and sun catchers, and La Maison du Chocolat, which has teas and sweets. But in between is where the action is – the New York Stock Exchange, Morgan Stanley Smith Barney, and a hive of other financial shops that power the world of money.
Wall Street is the American epicenter of a complex financial system that spans the globe. While there are Main Streets in many American towns, they are intensely local and disconnected. If you visit one of the 10,000-plus Main Streets, you can't say you've gone to the Main Street. Main Street is more of a metaphor for small business and middle-class values wherever they are found. Main Street is celebrated as the make-something-real, honest-day's-work heart of the economy.
---