What we see when we see race
(Read article summary)
Even in the era of a black president, Americans are never far from conversation, argument, or conflict over race. But while racism is real, race itself is a mirage.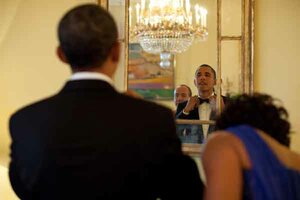 Pete Souza/The White House
Like millions of Americans, President Obama filled out a census form earlier this year. When he came to question No. 9, he checked the box marked "Black, African Am., or Negro." The son of a Kenyan father and a white mother from Kansas, the president could have checked another racial category, or an additional one. The form allowed that. He could also have chosen "some other race."
What the president did is what many people do. He identified with the race others see him as – a lifelong journey of discovery that he describes in his remarkably candid book "Dreams from My Father."
While he is officially "America's first black president," Mr. Obama is also probably "America's first multiracial president." Probably. We know that he is multiracial; we don't know if other presidents have been multiracial as well, since for much of US history the powerful never acknowledged having non-European blood.
The fact is, they all were multiracial, because we all are multiracial. Our roots go back to common ancestors in Africa about 100,000 years ago – the blink of an eye in evolutionary time. Humanity has developed a variety of different looks and designs as it has migrated out of Africa, but those differences are superficial, not biological. There are no subspecies of humans. In 2000, when they released a rough draft of the human genome, biologists Francis Collins and Craig Venter pointed out that human beings are 99.9 percent identical genetically.
---