A nomad nation settles down
(Read article summary)
Americans were once known for constantly being on the move. Recent trends indicate they are putting down roots whether they want to or not.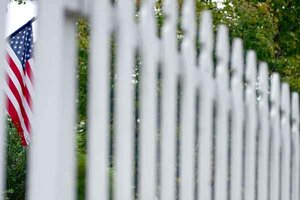 Ann Hermes/Staff
Americans have always been known for their restlessness. Daniel Boone craved elbowroom. Huck Finn couldn't wait to "light out for the territory." The Joad family headed to California when the Dust Bowl became intolerable.
[Editor's note: The original version of this article attributed the "light out" quote to Tom Sawyer.]
When the going got tough, the tough packed the U-Haul. They had been encouraged to do so by bards who sang of the romance of the road and the wonders west of the Mississippi. Walt Whitman praised the "free original life there ... litheness, majestic faces, clear eyes, and perfect physique." A century later, the Beach Boys hit the same sort of theme. Getting bugged driving up and down the same old strip? Easy enough to find a new place where the kids are hip.
By relocating, Americans were able to pursue jobs where they sprang up, which helped capitalism boom. They were also able to carve out independent lives, seek out new civilizations, and boldly try avocados and surfboards for the first time. Mobility fed the melting pot, which fed the business and cultural dynamism of late-20th-century America.
---