The middle class: key to the economy -- and the mid-term election
(Read article summary)
Rebuilding middle-class confidence is crucial to restarting the economy. More than anything else, steady, well-paying Jobs are crucial to middle-class confidence. Election 2010 could hinge on that.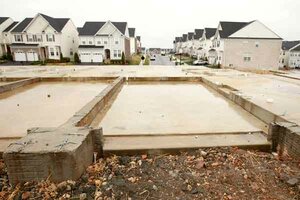 Kevin Lamarque/Reuters
In the early 1970s I worked on a construction crew, building houses on the frontier between suburbs and ranchland outside Austin, Texas. It was great to be paid for active, interesting work, especially considering my modest (and I do mean modest) skills with a hammer and saw.
Week after week our crew framed single-family houses in freshly carved cul-de-sacs. Utility workers, road builders, and concrete layers preceded us. Roofers, plumbers, electricians, sheetrockers, and finish carpenters followed. The houses would sell as quickly as we built them.
One day, the whole enterprise abruptly ground to a halt. The recession of 1973-75 had hit hard. In the blink of an eye, there were no buyers. And no buyers meant no paychecks.
If you think of those charts that show the ups and downs of the economy, we and all those once-eager but quickly gone buyers were situated well within the huge bell curve called the middle class. The middle class can feel safe – even rich – when times are good. That optimism propels purchases, creating jobs that in turn feed more optimism. But there is little margin when the economy tanks. Like a chain of dominos, hundreds of thousands of jobs tumble.
A Monitor special report by Cynthia Anderson (you can read it here) shows how the Great Recession from which we have just emerged (officially, at least, according to the National Bureau of Economic Research, if not convincingly) battered the middle class by almost every measure. There are more than statistics and economic cycles to this story. Cynthia's family portraits measure the quiet, real-life dramas that have been playing out throughout the middle class, the dreams deferred as the economy collapsed, the downscaling of expectations, the dissipation of optimism.
---