Why you should care where your dinner has been
(Read article summary)
When you plop down your money for bananas or fish sticks at the supermarket, you are buying into an increasingly global supply chain. That raises questions about food-safety laws.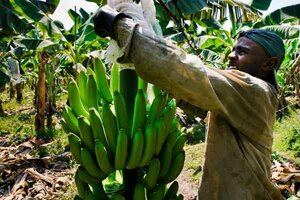 Juan Carilos Ulate/Reuters/file
It's fun to be on the bright, shiny, consumer end of things – to cradle an iPhone fresh out of the package, select a nice bunch of bananas from a ripening pile in the produce aisle, or blithely surf the World Wide Web. You don't have to be aware of the below-the-surface hive of microprocessors making your Internet journey possible, the global supply chain that feeds rare minerals and specialty plastics into your electronic toys, or the faraway workers harvesting and packing the fruit you peel for lunch.
You don't have to, but you might want to.
Every gadget, piece of food, or article of clothing comes with a back story. Warlords in Africa have fought over coltan, a key element in cellphones. China has a lock on rare earth metals vital in electronics. And not just in Chile do miners risk their lives to extract the copper that makes up the wires that power our home entertainment. You're buying all of that at the check-out counter.
Perhaps nowhere is the global supply chain of more concern than with food. In a global report, the Monitor's economics editor Laurent Belsie and staff writers Peter Ford in China and Sara Miller Llana in Mexico have examined this 
motherhood-and-apple-pie issue. Those tomatoes, fish sticks, and heads of iceberg lettuce you toss in your shopping cart may have traveled thousands of miles. How safe are they from negligent or willful contamination? What do we really know about sanitary conditions in the ever-expanding world breadbasket?
---