We should applaud when America is no longer exceptional in the world
(Read article summary)
Free enterprise flowered in the early United States as in no other nation. That made the US exceptional. In the 21st century, free enterprise has gone global. That's a good thing -- especially if other freedoms follow.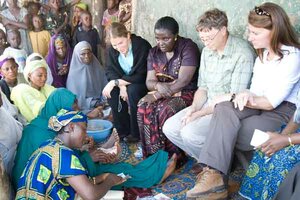 Prashant Panjiar/The Bill & Melinda Gates Foundation
Reporters get to meet exceptional characters. A quarter of a century ago, when I was working as a business writer for the Monitor, I met several of the individuals on this week's cover. Back then, they were in their prime earning years. Now, with the "Giving Pledge," they are in their giving-back years.
Warren Buffett took part in a 1984 discussion at Columbia University in New York in honor of the legendary investor Benjamin Graham. What stuck with me was the affable Mr. Buffett's simple point about Mr. Graham's big idea: If you can buy a dollar for 50 cents, why wouldn't you? Buffett kept things simple and made billions by buying half-priced dollars in the form of undervalued companies.
T. Boone Pickens, a Texas oilman-turned-corporate-raider, also had a simple strategy, though with a harder edge. His view was that when oil in the ground was more expensive than oil in the reserves of poorly managed oil companies, then it was time to raid those oil companies. He, too, made a pile.
---