Happy 2011. Next year will always be better
(Read article summary)
Every year has its ups and downs. Every new calendar is an opportunity to do better. And guess what? Over the long run, things are actually getting better.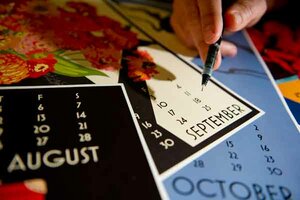 Ann Hermes/Staff
No place in the world illustrates the idea of improvement better, in my opinion, than Florence's Uffizi Museum. There, in the city at the epicenter of the Renaissance, you can witness the dawning understanding that real-world vision beats politically correct vision every time.
Here's how you experience that: As you walk through the halls, the artwork gradually shifts from beautiful but gloomy altarpieces to light-filled paintings featuring lifelike people in lifelike environments. Artists had begun using optics to create linear perspective. Art was OK before, but now it began to look like life as seen by the human eye, not as life was supposed to look because of tradition or clerical directive.
This was both a breath of fresh air and a disturbing new way of thinking. Real-world perspective in art arrived at the same time it did in science, economics, and politics. Individuals were challenging assumptions about how the world should look. That opened the floodgates. From celestial mechanics to the printing press, from the shocking pragmatism of Niccolò Machiavelli to the adventurous navigating of Christoforo Colombo, new thinking exploded. Renaissance, Reformation, and scientific discovery were unshackled.
Pat answers about the world no longer were acceptable. No matter what you thought ought to be, people began challenging authority and each other – experimenting, questioning, tinkering, exploring. In its more disciplined form, this is called the scientific method. For all of us amateurs, it is something like the impulse for improvement.
The world got better as a result. In the half-millennium that has followed the Renaissance, people have been living longer, lives have been more interesting, individual freedom has increased. Oh, there have been some terrible chapters along the way – unconscionable wars, famines, wrongheaded ideologies, and absurd cults of personality. The world remains a work in progress. Still, you wouldn't want to trade places with someone who lived before the Renaissance – or even a decade before this one. And maybe not even last year.
---