State of the Union: Choosing the right words to bring a nation together
(Read article summary)
Words can harm. Words can heal. The best speeches ever delivered asked not for anything but the better angels of our nature.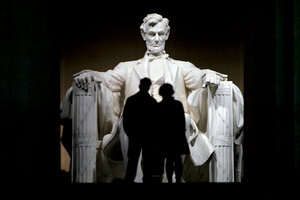 Jason Reed/Reuters
By my back-of-the-envelop guesstimate, the Monitor publishes 120,000 to 150,000 words a week in print and online. We are but one news organization out of thousands that together manufacture billions of words a day in the never-ending quest to make sense of the world.
And that's just the news business – a thin membrane atop the vast ocean of knowledge coded into words that encompass Socrates and Psalms, "Goodnight Moon," and the repair manual of the International Space Station.
Each word is supposed to be carefully chosen to exactly represent a thought. Mouths and typing fingers sometimes move faster than that, of course. We get caught up in the moment and speak or write before knowing what we want to say. We are careless with
words. A friendly audience smiles and looks down, embarrassed with us. A hostile audience takes offense.
Sometimes we purposely use words to harm. In sports, this is an established strategy for rattling a rival. A coach for one team trash-talks the quarterback of another, hoping to disturb the opponent's equilibrium. Muhammad Ali was a master of the memorable put-down at weigh-in. Like sticks and stones, words can harm you. People fight, fall in love, seal business deals, experience hope, and run as fast as they can on the strength of words.
The more prominent the individual, the more hangs on each word – which is why the commentariat spends so much time parsing what a politician says and how he or she says it, distilling sound bites and hashing over meaning. We could have a long debate over what was the best string of words ever uttered – a poem, a eulogy, a call to arms. Probably Abraham Lincoln's address at Gettysburg would be on the list. It was only 272 words.
---
Follow Stories Like This
Get the Monitor stories you care about delivered to your inbox.