Egyptian revolt: Ordinary people demanding ordinary freedom
(Read article summary)
Don't be misled by the grand scale and vast legacy of Egypt's legendary leaders -- from Ramses to Cleopatra to Mehmet Ali. The same nameless Egyptians calling for freedom today have always been the heart of this ancient society.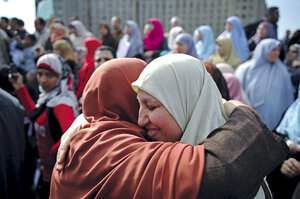 Ann Hermes/Staff
Walk through the Museum of Egyptian antiquities – the one in Cairo's Tahrir Square that was briefly attacked during the recent Egyptian unrest – and you can be overwhelmed. Room after room is filled with ceiling-high shelves jammed with amulets, jars, effigies, statues, and hundreds of thousands more pharaonic-era pieces.
Egypt is a time tunnel of human habitation. In the space of a few miles you can be transported from a swank, 21st-century hotel to a dusty Mameluke-era mosque to a 5,000-year-old temple to the sun god. Humans have lived on the narrow ribbon of green that the Nile bisects since before hieroglyphics were around to tell their story.
It is tempting to think of Egypt as the land of Akhenaten, Cleopatra, Tutankhamen, Mehemet Ali, and Napoleon. More remarkable than the treasures and legends they left behind, however, is the continuity of Egyptian society, the patience and organization that nameless generations of Egyptians needed to apportion the Nile's water and live side by side on its banks.
---