Computers vs. humans: the electronic brains are the vulnerable ones
(Read article summary)
In fact and fiction, we worry about menacing computers like HAL of '2001.' But the rise of cyber threats show how vulnerable the super brains really are.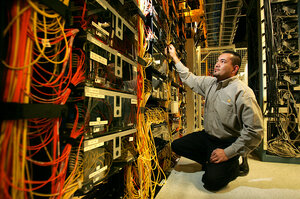 Tony Avelar / The Christian Science Monitor/File
A recurring theme in science fiction over the past 50 years has been the ever more powerful computer. The story line goes like this: Mankind welcomes helpful new technology but grows increasingly dependent on it. Eventually, technology evolves into a kind of super-brain that enslaves mankind.
Skynet was the cyber overlord in the "Terminator" movies. Mother was the big brain in "Alien." The most famous was the treacherous HAL in "2001: A Space Odyssey."
As HAL himself unctuously explained, "I am putting myself to the fullest possible use, which is all I think that any conscious entity can ever hope to do."
Computers may yet compete with us for superiority. That is for futurists and sci-fi fans to debate. For now, notwithstanding impressive feats such as the "Jeopardy" prowess of IBM's Watson, computers are really just souped up libraries, speedy accountants, blazingly fast math machines. They regulate electricity, answer basic questions, map locations, and let us connect with each other in ways we never imagined 20 years ago.
---