Peace isn't just the absence of war
(Read article summary)
From war to crime to political disputes, conflicts dominate the news. When the dust settles, people hunger for peace. But without 10,000 small acts that build peace, conflict too easily returns.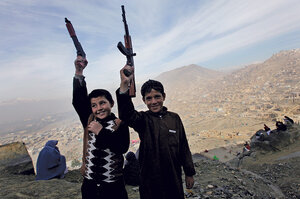 Dar Yasin/AP
When you learn about peacebuilding, you are likely to experience an aha moment.
All over the world, conflicts are raging between nations, tribes, families, individuals. The war stories you read in Monitor and and other media outlets follow a familiar arc: Discontent leads to tension. Young men take up arms. Horrid acts are committed.Then worse ones. The poet William Butler Yeats called this the "blood dimmed tide" that returns when moderation breaks down.
Eventually exhausted, combatants slump into an uneasy truce. Families mourn and try to rebuild – an apparent end state that is sometimes mistaken for peace. Most of the time, it isn't.
No area of the world is exempt from the cycle of violence. In the 1980s, Latin America was caught in an acute period of it. In the 1990s, it was the Balkans. Fifty years before that, most of the planet was engulfed.
The cycle is most pronounced where populations have surged, resources are scarce, and young men face bleak prospects. Africa and the Middle East are such places today.
---