A chill blows through the 'Arab Spring'
(Read article summary)
Across the Arab world and beyond, entrenched regimes are fighting back against the unprecedented wave of democracy protests.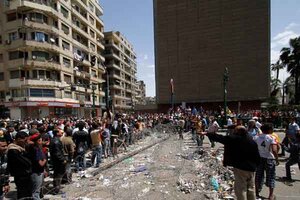 AP Photo/Khalil Hamra
It has been less than 10 weeks since the uprising began in Egypt's Tahrir Square -- a time when hope soared throughout the Middle East and other parts of the world for a peaceful transition away from one-man, one-party rule. In the short period since the departure of Egyptian president Hosni Mubarak, however, what looked like the road to democracy has become a twisting path filed with dead-ends, U-turns, and aggressive moves by entrenched regimes to hold onto power.
---