Crowdsourcing is good -- but not enough
(Read article summary)
The rise in citizen journalism around the world has vastly extended our eyes and ears. But journalism is still crucial to derive meaning.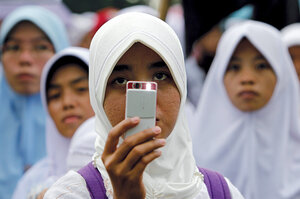 Beawiharta/Reuters/File
When was the last time you hung a Nikon around your neck or hefted a video camera to your chin?
Unless you are a card-carrying photojournalist or an avid hobbyist, you probably reach for your cellphone and let the camera app do the job on a day-to-day basis.
Not all of the estimated 5 billion cellphones in the world have cameras or can connect to the Internet, but huge numbers can. The image above from a rally in Indonesia is a fairly common sight. Anyone can capture a moment, which means anyone can be a reporter.
And with e-mail, Twitter, blogs, and instant messaging, everyone can be a publisher. That's good, even if it means that old-line media companies, including this one, are going through profound disruption as a result. There are now millions of citizen journalists. They have shown us tsunamis and tornadoes, street protests and police brutality. We have unprecedented visibility, especially in parts of the world where the state used to control everything that was seen and heard.
At one point in Tom Stoppard's 1978 play "Night and Day," a photojournalist in Africa notes how important it is to be able to see into dark places. "People do awful things to each other. But it is worse in places where everybody is kept in the dark. Information is light. Information, in itself, about anything, is light."
More information is always better than less. Does that mean we have more understanding? Here is a then-and-now example of what I mean: In 1982, I was reporting from the Middle East for the Monitor. Early in the year, travelers from Syria were whispering the word "Hama." A rebellious city had been surrounded by the army of Hafez al-Assad and was being shelled into submission. The Assad government controlled every aspect of news. No one could see what was happening in Hama.
---