Can the planet handle more middle-class humans?
(Read article summary)
In just 10 years, the world for the first time will be more middle-class than poor. That will tax resources and set up conflicts. But with more people free from just trying to survive, the arts and sciences should boom as well.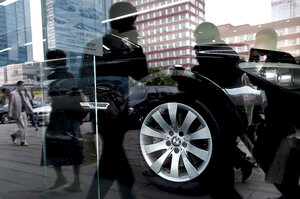 Jason Lee/Reuters
Let's have a round of applause for an astounding milestone in individual achievement, family prosperity, and community improvement around the globe. In just a decade the world will, for the first time in history, change from being mostly poor to being mostly middle-class.
Think about it. The third planet from the sun – not the closest,which burns hottest, nor the farthest and coldest, but the one in the Goldilocks middle – will by definition be middle-class, at least for the species that thinks it is in charge.
In a special "Future Focus" report, Monitor correspondents focused on three countries that account for the lion's share of the growth: China, India, and Brazil. Each is becoming more middle-class in its own way. In India, reporter Ben Arnoldy shows how it is a family affair. In Brazil, Julia Michaels examines the social network that helped one woman rise from poverty. In China, Peter Ford looks at the massive upward mobility engineered by Beijing's capitalist/command economy.
---
Follow Stories Like This
Get the Monitor stories you care about delivered to your inbox.