After Afghanistan: Will Americans forget it?
(Read article summary)
Once upon a time, 'Afghanistanism' meant obscure and mystifying. That hasn't been true since 9/11. As American troops begin to disengage, will Afghanistan revert to an 'ism'?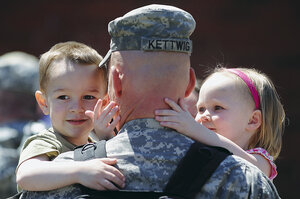 Elisha Page/Argus Leader/AP
Newspaper editors once had a name for complicated dispatches from the far reaches of the globe. They would glare from under their eyeshades and harrumph about "Afghanistanisms."
What they meant was that a newspaper should serve its local community first and foremost, not wring its hands about tribal intrigue in a remote and mystifying land.
They had a point. From politics to charity to the environment, it's usually best to pay attention to the home front first. To fixate on the far-away and ignore the up-close and personal is to be like dear Mrs. Jellyby in Charles Dickens's novel "Bleak House." She fretted about the natives of Borrioboola while neglecting her own needy family.
But it's no small irony that terror attacks plotted in Afghanistan and carried out almost 10 years ago triggered a response that turned a word once synonymous with obscurity into an urgent reality for Americans, Europeans, and others who previously hadn't given it a second thought.
Since October 2001, 2,501 coalition troops – more than half of them American – have been killed in Afghanistan, and tens of thousands injured. Casualties among Afghan civilians range into the tens of thousands. Across the United States, people know soldiers, sailors, marines, and Air Force personnel who have fought in what is now America's longest war.
---