Back to school: Doing right by the 'strivers'
(Read article summary)
In all the attention that is being paid to improving basic skills in American schools, the best and brightest students are too often overlooked. That's bad for them -- and worse for us.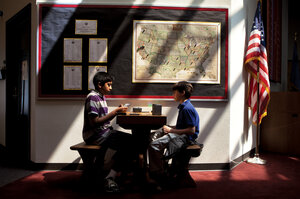 Melanie Stetson Freeman
Meet the strivers. They aren't in the news much. Most education stories involve standards, testing, curriculum, and social issues. You also hear about 8-year-old math wizards, musical prodigies, superstar quarterbacks, and the trendy worry of the moment – mean girls, goths, slackers, bullies, and assorted schoolyard subcultures.
Striver may be an unfamiliar term to you, but I'm guessing that you'll see one if you look in the mirror. A lot of Monitor readers are or were strivers. You may not have been the next Mozart or Einstein, but you paid attention in class. You may have sighed when homework was assigned, but you did it and learned from it. You enjoyed being challenged by teachers, books, and ideas. Light bulbs lit up when you got a geometry concept or encountered a poetic truth or became conversant in another language. Sure, you liked recess and summer vacation, but you probably read recreationally and weren't all that disheartened when "back to school" merchandise showed up at the store. You might not have wanted to admit it to certain friends, but you kind of, sort of, actually loved school.
As Stacy Teicher Khadaroo writes a Monitor special report (read it here), most teachers today don't have time or training to pay attention to the strivers. While strivers from affluent backgrounds have access to tutors, private schools, and extracurricular activities, those from families with modest means can get stuck in one-size-fits-all classrooms. One estimate of dropouts found that 1 in 10 earned mostly A's before they got bored and quit.
The good news is that all that brightness usually finds an outlet. Many artists and innovators have been dropouts. Herman Melville, Henry Ford, and Irving Berlin never completed high school. There are millions of people with high IQs working in machine shops, on sales floors, in child care. They invent better ways of doing things and excel at their avocations. They play amateur saxophone, build houses for the homeless, plant amazing gardens, start unthought-of businesses, and make fascinating friends.
---