Before 9/11: The tale of an Afghan 'lion'
(Read article summary)
Journalist Ed Giradet met the remarkable Ahmed Shah Massoud during the Afghan insurgency against the Red Army. Twenty years later, on the eve of 9/11, he tried to see him one last time.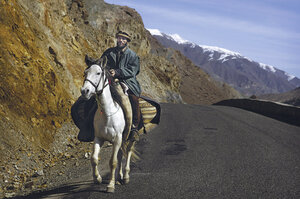 Andy Nelson/The Christian Science Monitor/file
The closest thing to a good guy that modern Afghanistan has given birth to was Ahmed Shah Massoud, a resourceful guerrilla leader who was both a pious Muslim and an enlightened modernist. Mr. Massoud supported schools for girls, for instance. And though he and his troops committed their share of wartime excesses, he took care to protect civilians from getting caught up in the vicious war he was fighting against Soviet military occupation in the 1980s.
Massoud was hospitable, well read, and had a good sense of humor. Although he was a Tajik in a predominantly Pashtun nation, he was a quintessential Afghan in his unwillingness to be mastered. Known as the "Lion of Panjshir," Massoud spent more than a quarter century fighting one war after another – against the Red Army, rival warlords, and finally the Taliban.
Edward Girardet first met Massoud in the summer of 1981 after trekking deep into Soviet-occupied Afghanistan. In the evenings, when he and Ed would sit in a cave and chat as Soviet MIGs pounded the area with bombs, Massoud would talk about everything from Persian poetry to the leadership qualities of George Washington, Ho Chi Minh, and Charles de Gaulle. Often, he would ask searching questions about the meaning of life. His troops admired him; the Soviet military was bedeviled by him.
---