The lesson of Apple: design matters
(Read article summary)
One man's relentless quest for simple, elegant design in everything from unseen circuit boards to hip retail outlets was evident in the very first Apple computers.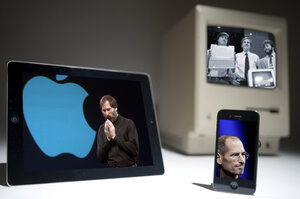 Alfredo Sosa/Staff; Photos by AP
It was early 1984 when my wife and I unboxed our first Mac. Even in those days, the little computer had a design simplicity everyone from Cupertino, Calif., to rural China now associates with Apple: spare graphics, simple instructions, friendliness just this side of being cloying. When you booted up the beige unit, a Mac icon with a smiley face appeared. Cute, yes. But computers circa 1984 were unfriendly, buggy, mystifying machines that only a special priesthood knew how to operate.
The Mac cost us $2,500, which would be $5,400 in today's dollars. It had negligible memory. It couldn't even connect to the Internet because there was no civilian Internet. We were nevertheless sure that the future had arrived. The Mac was light enough to heft with one hand. All the code was hidden beneath a "desktop" with "icons" you moved with a "mouse." I've put quotes around those words because they were new concepts in 1984. They hadn't been focus-grouped. We didn't know we needed them. But they made sense immediately.
The programs were primitive. MacWrite let you format a document. MacPaint let you design a graphic. That theoretically eliminated professional typists and print jobbers. But early "desktop publishing" (another novel idea) had a homespun, made-on-a-Mac quality. You wouldn't have wanted to send out Mac-generated wedding invitations.
The early Mac also had a few simple games, a rudimentary tool for balancing your checkbook, and odd features like "FatBits" in which you could tweak images at the pixel level. FatBits was as aimlessly amusing as popping bubble wrap, but it introduced amateurs to the world of computer graphics. (Hey, I just clicked a pixel!)
---