What an e-reader can't give you
(Read article summary)
From the Kindle to the iPad, e-readers are revolutionizing reading. They are handy, instantaneous, and spreading like wildfire. What they will never give you is the pleasure of wandering through the aisles of a bookstore.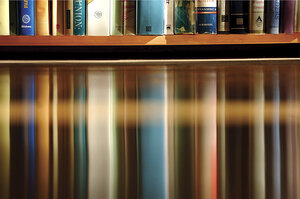 John Nordell/The Christian Science Monitor
Just a few days apart this fall, the Borders bookstore chain turned the lights out and Amazon debuted a new version of its Kindle e-reader. If ever there was an example of creative destruction, this was it. The onetime megabookstore that once was blamed (along with Barnes & Noble) for slaying independent bookstores was done in by the even more mega bookstore in the cyber cloud.
I confess to participating in the plundering of Borders. Everything – even the shelves and coffee bar – was 90 percent off. My car filled up with sumptuous volumes on cooking, travel, and gardening. For almost no money, I own how-to manuals that will make me a better carpenter and conversationalist, and one, appealing to my inner Boy Scout, promised to help me survive in the wild. I brought home hardbacks to replace worn-out paperbacks, humor anthologies I might only have shoplifted a chortle from in the past, and a handy epigrammatical collection (Who said "Where is human nature so weak as in a bookstore?" That would be Henry Ward Beecher.)
Borders didn't change with the digital times, as Barnes & Noble seems to be doing. And for every loss, I'm convinced, there is a gain. Sure, I am saddened and worried that the Internet is killing newspapers, civility, and church socials, but the Net has brought us unimaginable access to information, people, and goods and services. If bookstores are joining record stores as the latest bricks-and-mortar losers, our digital options are only getting better. Once you start using an iPad, Kindle, or other e-reader and experience the almost-instantaneous download of a book you just heard someone praise, it is hard to go back to browsing the aisles or waiting for the mail carrier to arrive.
---