Is this the era of leaderlessness?
(Read article summary)
Their politics may be diametrically opposed, but the Occupy Wall Street protesters and the tea party activists have one thing in common: a deep distrust of leaders. Are they onto something?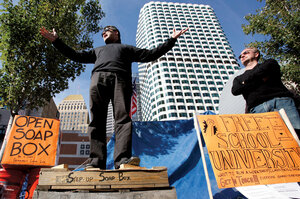 Michael Dwyer/AP
The tea party and the "Occupy Wall Street" movements evolved on different planets, even if members of both groups sport red-white-and-blue face paint, funny hats, and placards proclaiming their anger. Tea partyers tend to be older, antitax, and more Midwestern or Southern in origin. Occupiers are younger, in favor of higher taxes on the wealthy, and more urban and coastal.
But in that way that left and right can sometimes intersect, the tea party and OWS are in the same place in at least one important sense. Both have lost faith in established institutions. TPs are more down on Washington, D.C., than Wall Street. OWSers are more irked at big money than big government. But both are deeply skeptical of the stentorian voice that says "trust us, we know best."
The spirit of the times, whether in town-hall shoutfests or on the streets of Europe and North America, is infused with anarchy – and I mean nothing pejorative by that. "Anarchy" is now a synonym for chaos and wild-in-the-streets mayhem, but in the original Greek it simply means "without a leader."
---