Plymouth Rock: more than a homely boulder
(Read article summary)
Thanksgiving is a great day for family, food, and football. But what really makes the day great is the idea at the heart of it -- the transformative power of gratitude.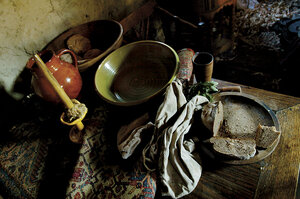 Melanie Stetson Freeman/Staff/file
Every town has memorials. They can be simple or grand, melancholy or rousing. Some are mystifying. (Why should that particular sword-brandishing dude and his horse forever command a key intersection?) Precious few – Maya Lin's Vietnam War memorial in Washington, D.C., and Michael Arad's new September 11 memorial in lower Manhattan are two – inspire quiet awe.
We create these landmarks to keep alive the memory of significant people and events. Also to keep alive their ideas. Throughout the world, rocks and relics are visited by pilgrims with the hopes of recapturing the special qualities that once lived and breathed as we do.
I live not far from Plymouth Rock and often pass it while out for a walk. If you have ever visited this
memorial, you probably had this all-too-common reaction: Huh? Inside a relatively handsome tempietto is a lumpy, patched-together granite mound surrounded by wet sand and inevitable tourist coins. In a country rich with stunning seacoasts and purple mountains (and many nicer boulders), this is a homely memorial. Whether the first passenger on the Mayflower set foot on this rock in this place has always been questionable. Unlike, say, the Lincoln Memorial or the cemeteries at Normandy, Plymouth Rock is not about titanic struggles and the sweep of history. Still, I love the what it stands for. What began more or less around Plymouth's dubious rock grew into a nation and a set of ideas that continue to influence world history.
---